Nos Chatons / Our Kittens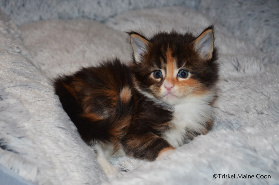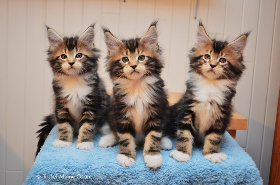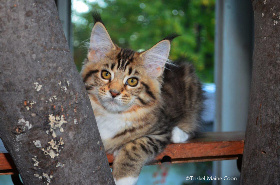 Tous nos chatons sont stérilisés avant leur départ dans leur nouvelle famille à l'âge de 13/14 semaines




Garantie de santé (1 an sur les maladies génétiques)




Vaccination (2 injections à 7 et 11 semaines)




Nos chatons sont négatifs aux virus Felv/Fiv (tous nos Maine Coon sont testés négatifs)

Micropuce (incluant l'enregistrement du chaton dans une base de données)




Chaque chaton reçoit son propre certificat d'enregistrement de la Cat Fancier's Association




Nos Maine Coon ne devront jamais être dégriffés et ne devront jamais être laissés à l'extérieurs sans surveillance
All our kittens are neutered/spayed before to go to their new family at 13/14 weeks of age




Health guarantee (2 years against genetic diseases)




Vaccination (2 injections at 7 and 11 weeks)




Kittens are Felv/Fiv negatives (all our Maine Coon are tested negatives)




Microchip (including recording of the kitten in a database)




Each kitten receive his own certificate of registration issued by the Cat Fancier's Association




Our Maine Coon should nerver be declawed and should never run freely outside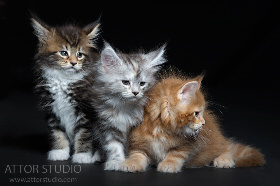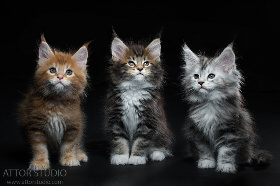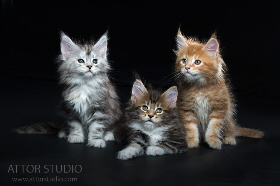 S oucieux du bien-être de nos chatons nous ne les laissons jamais partir avant 13/14 semaines. Avant 3 mois, les chatons sont fragiles car leur système immunitaire n'est pas complètement développé. Ils ont également besoin de rester en contact avec leur mère qui a un rôle régulateur très important. C'est elle qui leur apprend à contrôler leurs morsures et griffures et participe grandement à leur bonne socialisation. Enlever les chatons trop tôt à leur mère peut être lourd de conséquence.
I l nous arrive de garder des chatons en évaluation, c'est-à-dire en observation pour éventuellement faire partie d'un programme d'élevage, soit pour notre chatterie soit pour un autre éleveur. Un chaton de qualité élevage et/ou exposition ne peut être choisi avant l'âge de 3 mois et doit avoir été examiné par notre vétérinaire. Nous prenons donc le temps de regarder comment le chaton se développe et s'il a toutes les qualités requises pour être gardé pour l'élevage. Dans le cas contraire le chaton sera disponible en tant que chaton de compagnie.
C oncerned about the well-being of our kittens we never let them leave before 13/14 weeks. Before three months old kittens are fragile because their immune system is not yet fully developed. They also need to keep in touch with their mother who has a very significant regularoty role. She teaches her kittens to control their bites and scratches and contributes greatly to their proper socialization. Remove kittens from their mother too early can have serious consequences.
T ime to time we keep kittens under evaluation for a breeding program, either for our cattery or for another breeder. A breeding/show quality kitten shouldn't be selected before the age of 3 months and should be examinated by a veterinarian. We take the time to look at how the kitten grows and qualities required to be kept for breeding. Otherwise the kitten will be available as a pet kitten.
Disponible * Le chaton cherche une nouvelle famille

Option * Quelqu'un est intéressé par le chaton, mais celui-ci pourrait devenir disponible
Réservé * Un acompte a été versé pour la réservation du chaton
Évaluation * Le chaton est gardé en observation pour un éleveur, mais il pourrait devenir disponible
Availabl e * The kitten is looking for a loving home

Option * Someone is interested by the kitten, but you can still ask about this kitten
Reserved * A deposit has been paid for the kitten
Evaluation * The kitten is being observed for a breeder, but you can still ask about this kitten
Cliquez sur la caméra pour voir les photos des adorables chatons nés à la Chatterie Triskel

Click on the camera to view pictures of lovely kittens produced by Triskel Maine Coons