À Propos de Nous / About Us

N ous vous souhaitons la bienvenue sur notre site,

L a chatterie Triskel est un élevage familial situé à Sainte-Marthe-sur-le-Lac (Basses-Laurentides) dans la province du Québec au Canada.

Notre passion pour la race a commencé en 2001 avec nos deux premiers Maine Coon de compagnie que nous avons présentés dans des expositions félines. Nous avons pris le temps de bien connaître la race et de tous les aspects de l'élevage avant de nous lancer dans l'aventure. La chatterie Triskel a été enregistrée auprés de la CCA en septembre 2005 et de la CFA en janvier 2006.
N os Maine Coons sont élevés en milieu familial, nous donnons beaucoup d'attention et d'amour à tous nos chats et chatons. Afin de préserver la qualité de vie de nos femelles, elles n'auront des chatons qu'une fois par année.
Nos reproducteurs sont soigneusement sélectionnés non seulement pour leur beauté, leur taille et leur tempérament mais aussi pour leur santé. Nous faisons les tests suivants recommandés pour la race: Échocardiographie du Coeur - test AND pour la mutation génétique MyBPC3 - vérification des rotules. Tous nos chats sont également testés négatifs pour le virus de la leucémie féline (FeLV) et le virus de l'immunodéficience féline (FIV).

Notre chatterie est un élevage familial, donc tous nos chats et chatons vivent dans notre maison. Nous acceptons les visites mais uniquement sur rendez-vous. Il nous  fera plaisir de vous rencontrer.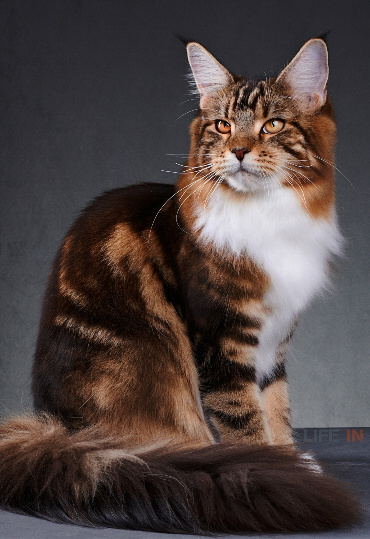 GC CNW Triskel Naomi Sun
W elcome to our Website,

T riskel Maine Coon is a family catterie located in Sainte -Marthe-sur-le-Lac (Bass es -Laurentides) province of Quebec in Canada.
O ur passion for the breed began in 2001 with our two first Maine Coons Sahib and Kenji that we presented in cat shows . We took the time to learn about the breed and all aspects of breeding before to embark on the adventure . Triskel cattery was registered with CCA in september 2005 and with CFA in january 2006.
O ur Maine Coons are raised in family environment , we are giving to our cats and kittens full of attention and love. To preserve the quality of life of our females , they will have kittens once a year.
A ll our breeders are carefully selected not only for their beauty, their size and temperament , but also for their health. We are doing recommended tests for the breed : echocardiography DNA and test for the genetic mutation MyBPC1 - radiography of the hips and patella luxation test. All our cats are tested negative for feline leukemia virus (FeLV) and feline immunodeficiency virus (FIV).

O ur cattery is a family breeding , so all our cats and kittens live in our house. We accept visits but only by appointment . We will be happy to meet you.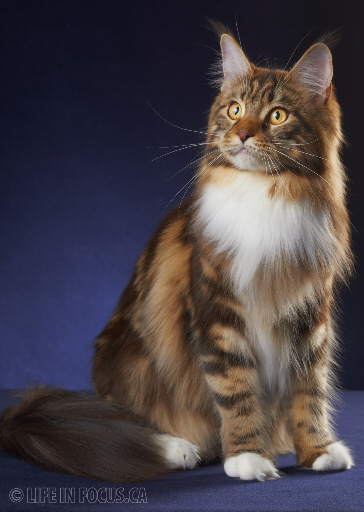 CH CRW Triskel ZORA (Owned by : Linda V & Stephane B) - Mascouche

P as de service d'accouplement

Nous travaillons uniquement avec des éleveurs de Maine Coon sérieux et bien établis. ( Code d'éthique - Protection de la race : Aucun chat Maine Coon ne doit être accouplé avec un chat autre qu'un Maine Coon enregistré )

N o stud service

We only work with serious and established Maine Coon breeders. ( Code of Ethics - Protection of the breed : No Maine Coon cat shall be bred to any cat other than a registered Maine Coon Cat )

Contactez Nous / Contact Us